So where are Bridgestone tyres made? Bridgestone is a renowned tire manufacturer based in Tokyo, Japan. They have a long and rich history and are known for their quality and durability. The company manufactures tyres in different countries and its products are considered to be some of the best on the market. But where are Bridgestone tyres made?
The Bridgestone tyres are primarily produced in the headquarters factory in Japan. But after a few years, the firm began to produce tyres in other countries including the United States, Belgium, Australia, Brazil, China, etc.
This article provides an overview of Bridgestone as a company and where its tyres are produced all over the world.
Get quotes from local Bridgestone tyres dealer Click Here:
Bridgestone Tyres Brand Overview
Bridgestone Corporation is a multinational auto and truck parts manufacturer based in Tokyo, Japan. In 2015, it was the largest tire manufacturer in the world with a revenue of $27.4 billion and operating income of $2.63 billion.
The company was founded in 1931 by Shojiro Ishibashi as the Ishibashi Manufacturing Company. It began as a manufacturer of rubber products such as tyres, pipes, and hoses. The company changed its name to Bridgestone Tire Co., Ltd. in 1951 and became listed on the Tokyo Stock Exchange in 1962.
Bridgestone expanded rapidly throughout the 1970s and 1980s, acquiring several other companies such as Firestone tyre and Rubber Company in 1988. The company now operates in 150 countries and employs over 140,000 people.
Where are Bridgestone tyres made?
Bridgestone Tyres Production Locations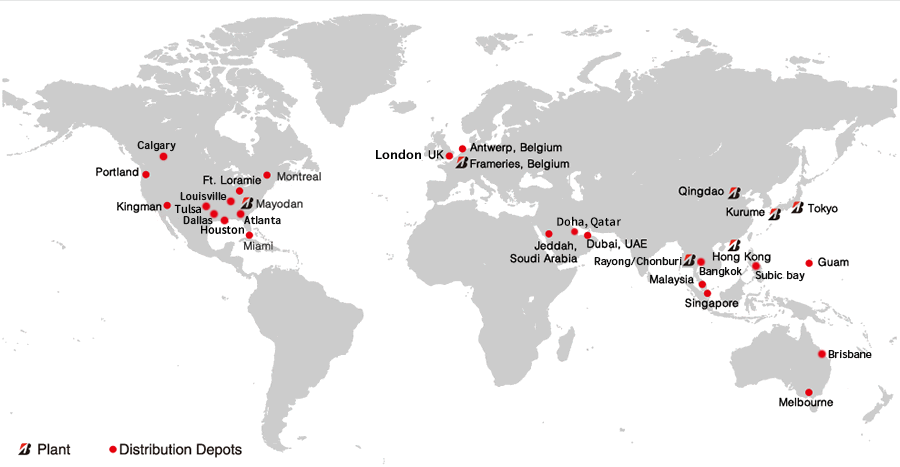 Japan
The Bridgestone Corporation headquarters – also know as 'the Bridgestone building' – is located in Tokyo, Japan and this is where the majority of its tyres are produced. The company has several other factories located throughout the country. There is also a Bridgestone Museum in Tokyo – in the suburb of Kybashi.
United States
Bridgestone began producing radial tyres in the United States in 1967 at a plant in Culpeper, Virginia. The company now has multiple plants located across the country, employing over 5,000 people.
The Bridgestone tyres produced in the United States are primarily shipped to other markets such as Europe and Asia.
Belgium
Bridgestone start to manufacture tyre in Belgium in 1971 and has since become one of the country's largest employers. The company has two plants located in the cities of Liege and Verviers.
Australia
The company's first Australian factory was built in 1974 in the city of Perth. The Bridgestone tire company now has two other plants located in the country, one in the city of Adelaide and another in the city of Melbourne.
Brazil
Bridgestone began producing tyres in Brazil in 1961. The Bridgestone Americas company now has five plants in the country: three in the state of São Paulo and two in Minas Gerais.
China
Bridgestone's first tire production facility in China was established in 1995 in Dalian, Liaoning Province. The company now has eight plants in the country, employing over 8,000 people.
The Bridgestone Group, which is based in Japan, has about 160 production facilities and research labs and markets goods in more than 150 countries worldwide.
Bridgestone Tyres Product Range

The company offers a wide range of tyres for different vehicles such as cars, trucks, buses, motorcycles, and bicycles. It also produces a variety of specialty tyres such as those used in aircraft and construction equipment. Bridgestone provides tyres for both original manufacturers (OEMs) and the aftermarket.
The company offers a wide range of products for different applications such as:
●      Passenger car Tyres
●      Light truck Tyres
●      Truck and bus Tyres
●      Motorcycle Tyres
●      OTR (off-the-road) Tyres
Bridgestone provides a variety of services such as tire repairs, replacements, and maintenance. It also offers a 24/7 roadside assistance program for customers in the United States. Bridgestone has a network of over 1,400 authorised dealers across the country.
The company also offers an online tire selection tool that helps customers find the right tyres for their vehicles. Bridgestone provides a warranty on all of its products.
In May 1988, Bridgestone acquired The Firestone Brand, which transformed Bridgestone into one of the world's largest tire companies and helps them dominate the tire market.
Bridgestone Tyres Environmental Initiatives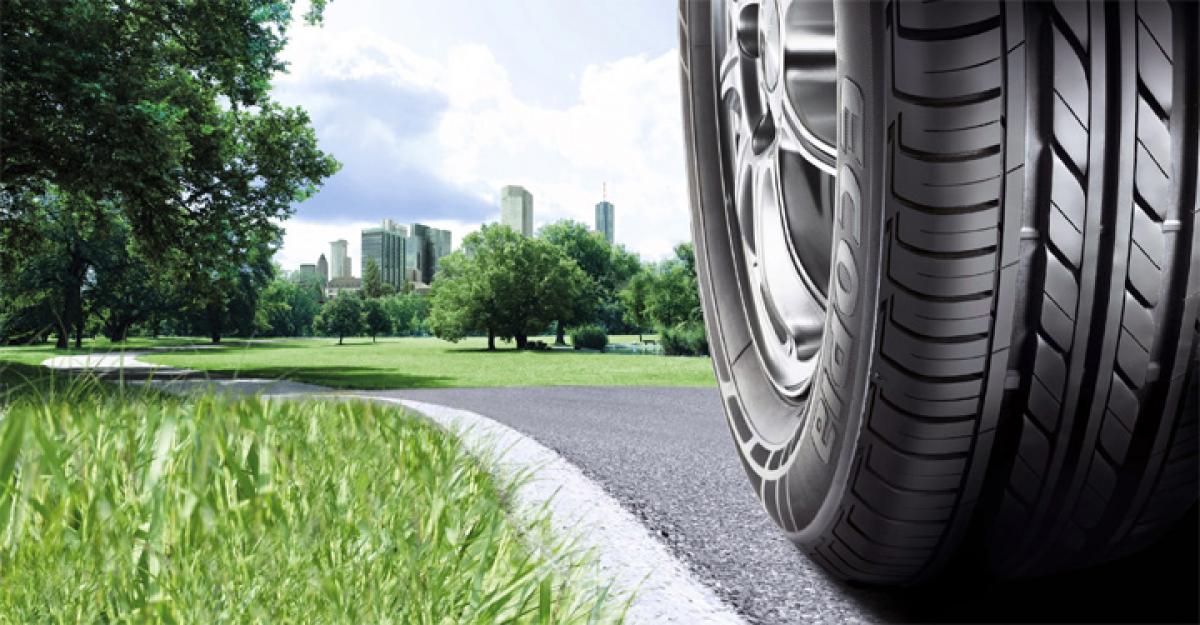 The company has several initiatives in place to reduce its environmental impact. Bridgestone was the first tire manufacturer to sign the United Nations Global Compact in 2004. The company has also been a World Business Council for Sustainable Development member since 2002.
Bridgestone has set a goal to reduce its CO2 emissions by 30% by the year 2030. The company is also working on developing tyres that last longer and use less energy. Bridgestone is investing in research and development to create more sustainable products.
Conclusion
Alongside Michelin Tyres and Goodyear Tyres, Bridgestone is a global leader in the tire industry. The company produces a wide range of tyres for different vehicles and applications. It has a large network of authorized dealers and offers a variety of services to its customers.
The Bridgestone tyres are manufactured in different countries around the world. The firm has production facilities in Japan, the United States, Europe, and other countries. If you see 'Bridgestone' on a tire sidewall, you can be confident you have tyres are made of high-quality materials and undergo rigorous testing to ensure their safety and durability.
We hope this article has helped you understand where Bridgestone tyres are made. If you have any further questions, please feel free to leave a comment. Thank you for your time.

---
Written By
Matt Banks
Matt is the founder of Autohero.com.au and has been hooked on cars and repairs ever since childhood. A veteran in automotive since leaving school, Matt has completed his trade as a panel beater and is across all things with wheels. 
His first car was a 1967 FORD XR Wagon followed by a string of collectable Holden's.
Have a question for Matt? leave a comment below.