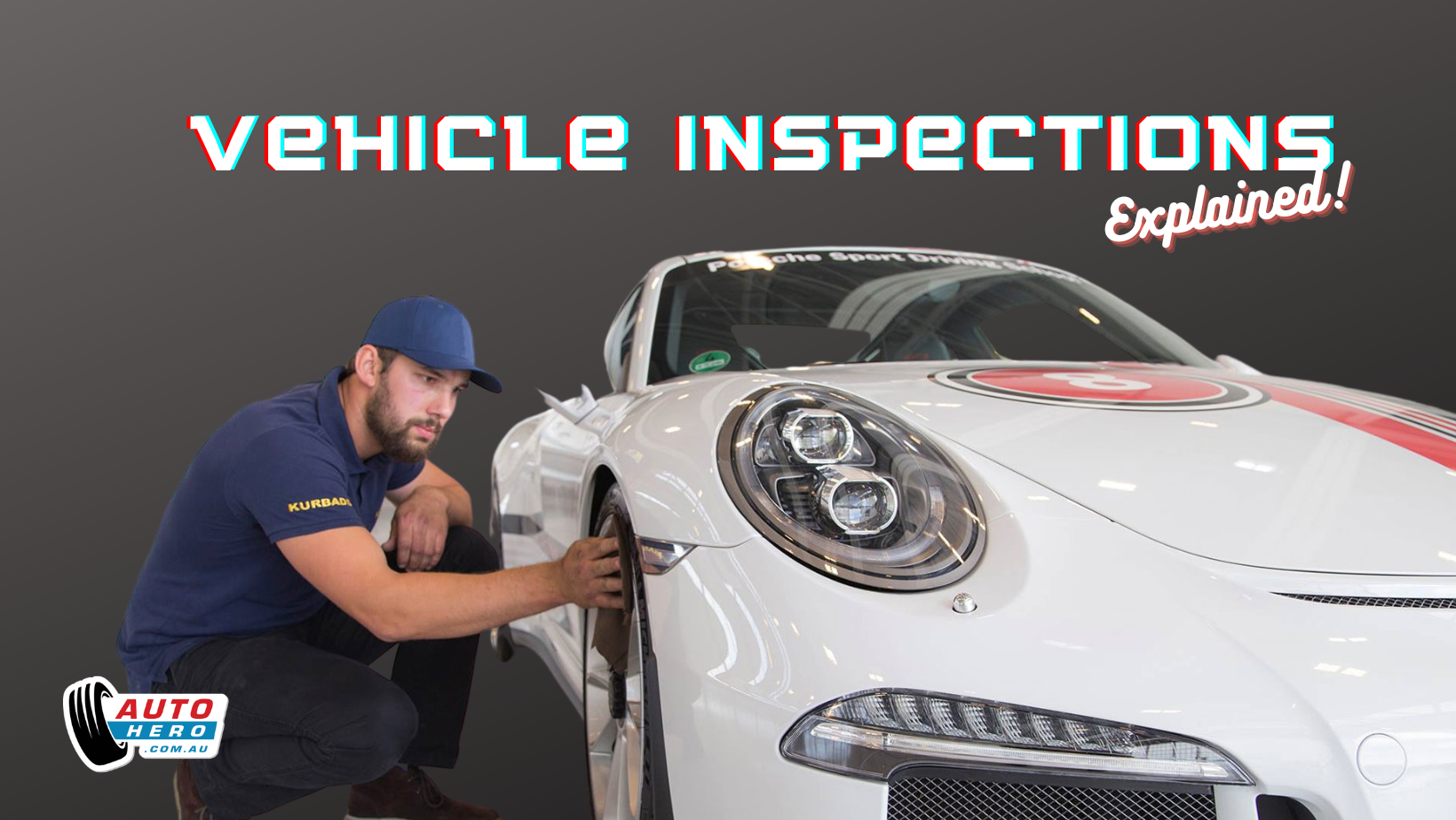 Across Australia there are various different Vehicle Inspection Rules. If you are planning to buy or sell a car interstate, or are moving interstate, then it can be easy to get caught out. Before you move, buy, or sell a new car, it's important to understand how the different vehicle inspection schemes vary across the country.
Need a vehicle inspection? Click here to find a AutoHero Mechanic near you.
How Often Vehicle Inspection Should be Carried Out in Different Areas
The vehicle inspection scheme that applies to your car will vary depending on the territory or state where you live. If you are moving a car from one territory or state to another, then it's important to check if you need to have it inspected again to be in compliance with the rules in your state.
Vehicle Inspection Northern Territory
There is no inspection necessary for transferring a vehicle that is under five years old from another territory or state. No vehicle inspections are required until a car is five years old, and another inspection is needed once the vehicle is ten years old. Cars and other vehicles that are more than ten years old need to be inspected yearly. Vehicles over this age that are being transferred from interstate to an NT registration need to be inspected along with providing proof of ownership documents.
Vehicle Inspection Victoria
If you want to sell your car in Victoria, it is advised to get an RWC or roadworthy check. Although this is not a mandatory requirement for sellers, you will need a completed RWC in order for the new buyer to register the car under their name. You will also be required to book an inspection if you are transferring car registration from another state.
Vehicle Inspection ACT
Rules in ACT are quite similar to those in Victoria. However, you will only need to book an inspection if you are selling a vehicle that is more than six years old. You should also book an inspection if the car's registration has elapsed for more than twelve months.
Vehicle Inspection South Australia
Rules around inspections here are quite relaxed. You don't need to book an inspection if you are transferring vehicle registration from another territory or state; all you need is to make sure that you have at least third-party insurance, which is compulsory.
Vehicle Inspection Western Australia
A standard inspection will be required to transfer the registration of a vehicle to WA. However, in order for the vehicle to be registered successfully, you will need to ensure that an immobiliser is fitted to your car or have one fitted. You may also want to book a roadworthy check since in WA, the police tend to come down heavier on cars that do not look roadworthy and hand out notices for mandatory inspections or 'call ins'.
Vehicle Inspections Tasmania
Another area where the rules are quite relaxed. You only need to get a roadworthy check if you are transferring a car from another state. You'll also need to get the RWC or 'roady' check done if you are clearing a defect or have a car that has registration that has lapsed for more than three months. No annual inspections are required as long as you pay your registration on time. No RWC is needed if you are buying or selling a car.
Vehicle Inspection Queensland
If you are selling your car in Queensland, then it is required to first pass a full inspection. Before you can sell your car to a buyer, you will need to prove that it has been looked over by a professional and does not have any major issues. You will also need to book an inspection if you are transferring a vehicle registration from a different state.
Vehicle Inspection New South Wales
NSW has the most infamous inspection scheme in Australia. If your car is more than five years old, you will need to take your vehicle to an approved inspection station to complete a full assessment. This is known as a Pink Slip inspection and must be completed before you register your car. It also applies to cars that are being transferred to NSW from a different state, this is called a blue slip.
How Early Can You Get a Pink Slip?
A pink slip or eSafety check is necessary in NSW for all light vehicles more than five years old. It is legally required, and you will not be able to register your car if you do not have one. You'll need to have it carried out at an authorised inspection station, and the results will be recorded electronically with the Roads and Maritime Services (RMS). You will be required to take your car for this inspection once it is five years old. A light vehicle pink slip stays valid for six months, so you should use it to renew your registration within six months of passing. If you fail to register your car within the six months, you will need to book your car in for another inspection which must be passed before you can register. Depending on your registration length, you will generally be required to pass the inspection and get a pink slip on a yearly basis.
How to Transfer Registration Interstate
How to transfer your registration interstate will depend on the state that you want to transfer the registration to. If you are moving to NSW or bringing a new car from a different state to NSW, you will need to transfer the registration. You can do this at any Service NSW Centre. It is a legal requirement, as even if your vehicle is registered in another state, it is considered to be unregistered if it's kept in NSW and doesn't have an NSW registration. This can lead to severe penalties. To transfer your registration, you will need your ID, proof of your registration entitlement, the original number plates for the car, proof of compulsory third-party insurance, a report from an Authorised Unregistered Vehicle Inspection Station issued no more than forty-two days previously, the application for registration PDF form, and your payment. It costs $34 to transfer the registration within fourteen days of acquiring the car, or $157 after fourteen days. Additional registration charges, stamp duty and taxes may apply.
How to Buy a Car Interstate
Australia is a huge country, so buying a car interstate often means that there are hundreds of kilometres between you and the car that you want to check out and test drive. If you have seen a car that you really want, then it might be worth the hours of driving to go and get it. With the rise of online cars ads, more and more Australians are buying cars from all over the country. However, when you're buying a car from a different state or territory, there are several things to consider.
Firstly, you will need to consider how you are going to inspect a car that is in a different state. If there's quite a long distance between you and the car, then you may want to consider paying somebody nearer to it to carry out an inspection on your behalf, test drive the car and let you know what they found. You should also check the Personal Property Securities Register to make sure that the car isn't stolen and to ensure that it doesn't have outstanding finance on it. Take advantage of any pre-purchase inspection service in the state where the car is for sale; you can get this from all the major motoring organisations.
Another major factor to think about when you buy a car from a different state is the cost of bringing your car back home. This can vary a lot depending on where you have bought it and where you are bringing it to. Because of this, you should get some quotes and consider the cost before you buy the car, so you're not slapped with unexpected high transportation fees. It could cost you anything from $250 to $1500 depending on the size of the car you want to buy and the distance that it is being transported.
You'll also need to think about how you are going to change the registration to your name and insure the car. When you buy a car from a different state, this process becomes a little more complex and a bit more expensive. Since Australia does not have consistent laws and regulations between states, you will need to check what applies to both the state that you are buying from and the state you're bringing the car to. You will need to transfer the registration from the state you are buying from to your home state. If you intend to drive the car from the old state to the new one, you will also need to get a temporary registration known as an Unregistered Vehicle Permit. You can apply for this through your state authority, and it provides you with CTP insurance while you are driving the vehicle home. This does not apply if you are using a freight service to transport the car.
With different regulations and rules in place for cars in different states, it's important to know what to expect in terms of inspections and other requirements when buying or selling a car.
Need a vehicle inspection? Click here to find a AutoHero Mechanic near you.