What is a Blue Slip?
A blue slip is a letter from your mechanic stating that an unregistered vehicle is safe, and that it meets design and identity standards. Your vehicle will need to pass various tests before you can receive a blue slip, and you won't be able to register an unregistered vehicle without one.
When do I need a Blue Slip Inspection?
A Blue Slip is needed when your car has been left unregistered for more than 3 months. This guide tells you how to Get a Blue Slip in NSW. Whether you've been off the road for a while and your registration has lapsed, or you've found a great deal for an unregistered car, you're going to need a blue slip before you can get your vehicle registered in NSW.
You will need to get a blue slip if your vehicle's registration has been expired for more than three months, or if it was brought into New South Wales from interstate or overseas. While these are the most common reasons, you will also need a blue slip if your vehicle:
Was previously written off and has been repaired.
Needs Police or RMS defect notices cleared.
How much do Blue Slips cost?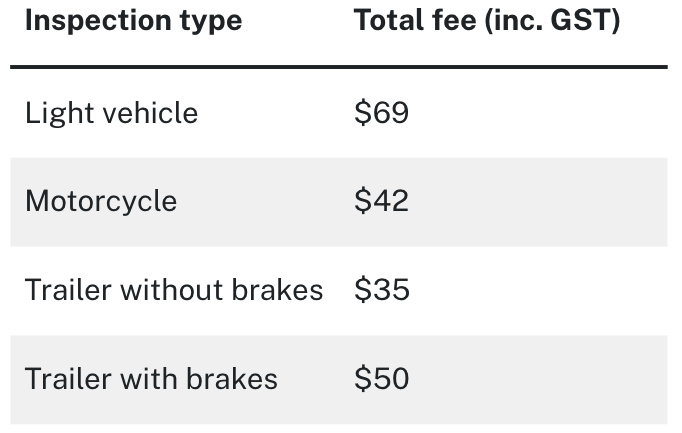 The cost of a blue slip will depend on the type of vehicle and is separate to pink slip and registration fees.
We got these costs from the Roads and Maritime Services (RMS) website.
Blue slip requirements
A blue slip involves an inspection of your car's tyres, lights, fluids, suspension, seatbelts, brakes and checks for any leaks. A similar inspection is done for pink slips, but a blue slip inspection is more thorough. It also involves an identity check which ensures that the vehicle or its parts are not stolen. Your vehicle must also be up to its manufacturer's standards. You can find this in your vehicle's guide, or if none was provided, by a simple search of your vehicle's make and model on the Internet.
Blue slip checklist
Once you book your appointment for a blue slip inspection, make sure you do the following:
Clean the vehicle's interior and make sure there are no loose items.
Give the vehicle's exterior a good wash.
Ensure your vehicle has enough fuel as the examiner might have to drive your vehicle for up to 10 KM to check everything is working well.
Bring all documentation and proof of identity and purchase.
How long does a blue slip last?
Once your vehicle has passed inspection and you have been issued a blue slip, you have 42 days to use it to register your vehicle. If you don't get your vehicle registered during this time you will need to take your car in for another inspection.
How hard is it to get a blue slip?
Compared to a pink slip, blue slip inspections are far more rigorous and come at a higher cost (pink slips are generally around $30). Blue slips require more thorough safety and operation checks, and check identification numbers on the vehicle and its parts, such as the engine number, to make sure that nothing has been reported stolen. If a check comes back with evidence of stolen parts, the police may investigate and you will need to supply proof that you bought the vehicle or its stolen part/s legally.
Blue slip for a trailer or a caravan
Trailers are slightly easier to get pass for inspections. During an inspection, your mechanic will check your Lights, brakes, wheel bearings and tyres, so be sure they are all in good working order before going.
---
Written By
Matt Banks
Matt is the founder of Autohero.com.au and has been hooked on cars and repairs ever since childhood. A veteran in automotive since leaving school, Matt has completed his trade as a panel beater and is across all things with wheels. 
His first car was a 1967 FORD XR Wagon followed by a string of collectable Holden's.
Have a question for Matt? leave a comment below.