Far North Queensland is really an explorer's paradise – a land full of dramatic scenery, bush outposts and, yes, plenty of epic 4WD trails to challenge even the most experienced driver. Today, we're taking a closer look at the very best 4×4 tracks near Cairns.
The Best 4×4 Tracks Near Cairns.
Whether you're an absolute beginner looking to cut your teeth on some beautiful tracks, or a pro looking to flex your four wheel driving might, we've selected five of the best tracks near beautiful Cairns.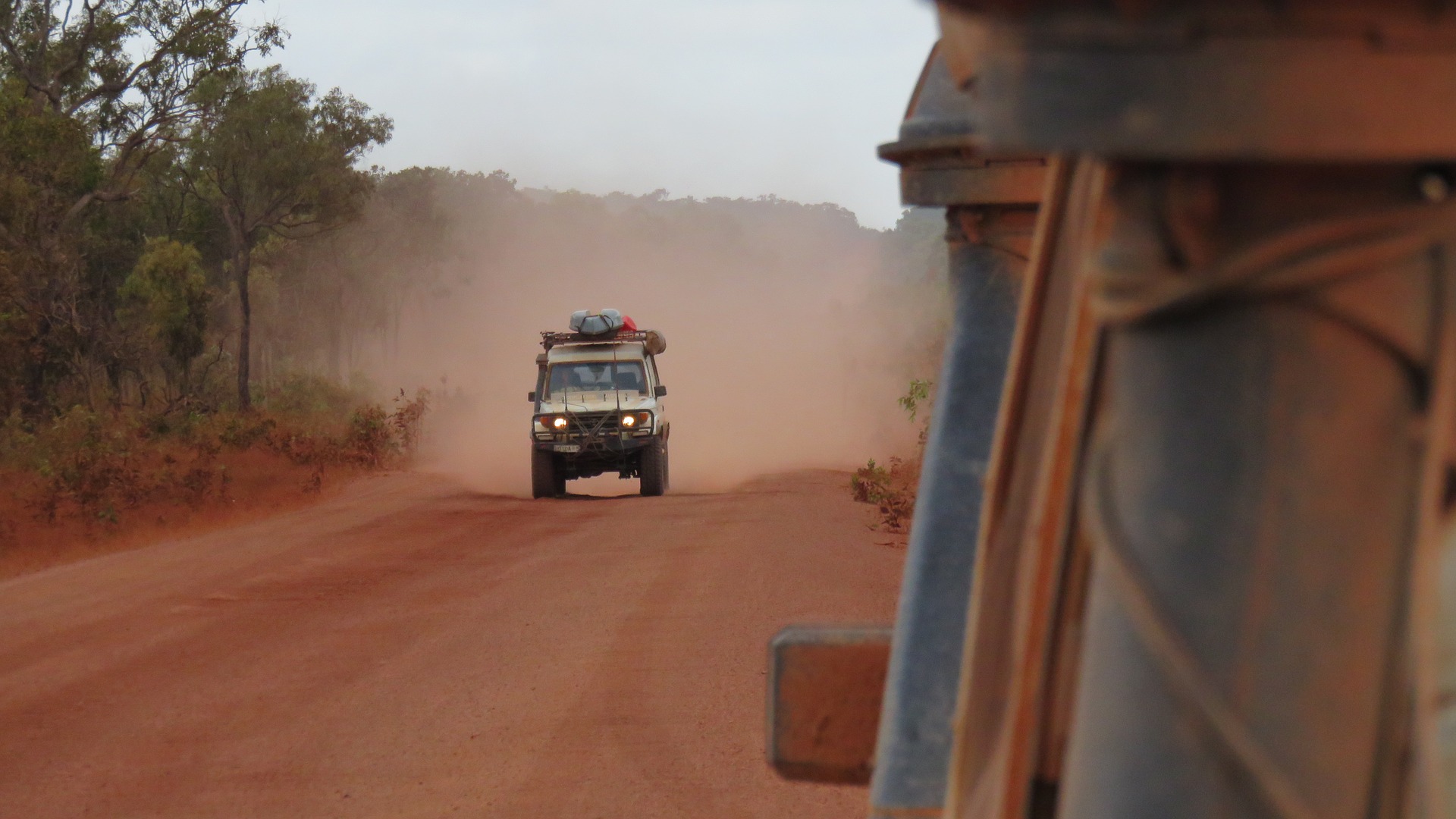 Cairns to Cape York ( 4×4 Tracks Near Cairns)
Distance: 1,400 kilometres
Difficulty: Moderate/difficult
Top Tip: Travel between May and October; at other times roads become impassable
One of the great 4×4 adventures in Australia, Cairns to Cape York is not for the fainthearted. The journey spans over 1,400 kilometres and is best for experienced adventure enthusiasts owing to its challenging roads and isolation.
Those who do undertake this challenge will be well rewarded for their efforts. The journey takes adventurers to the very northernmost tip of Australia, where the scenery is rugged and beautiful, and daily life is a world away from cosmopolitan capitals.
The trip also takes in many beautiful sights, from the wide open plains to abundant wildlife. Plus, although the area is rugged and isolated, hospitality is abundant from both small farming communities and the Traditional Owners of the lands.
Don't miss
Drop by Mareeba, which boasts sunshine nearly every day of the year plus abundant coffee plantations
Explore Cooktown, with its heritage buildings, monuments and museums.
Watch the sunset from Grassy Hill near Cooktown
Stop in at Bramwell Station for a drink or bite to eat, and perhaps stay the night
Try the fishing at Seisia, an angler's paradise
Take the old Telegraph Track to The Tip 4×4 Tracks Near Cairns.
Cairns to Cape Tribulation (inc. the Daintree Rainforest & Bloomfield Track)
Distance: 140 kilometres
Difficulty: Easy/moderate
Top Tip: Most of this can actually be accessed without a 4WD but a sturdier vehicle = more options and more fun
Technically speaking you don't actually need a 4×4 to get from Cairns to the Daintree Rainforest, however it will open up additional tracks and locations. Therefore, we think it is a worthy addition to our list of the best 4×4 tracks near Cairns.
This itinerary will take you past a couple of Far North Queensland hotspots before arriving at the beautiful Daintree Rainforest, one of Australia's true natural treasures. Part of the largest tropical rainforest in Australia, it is an amazing ecosystem.
Just past the Daintree Rainforest lies Cape Tribulation and the Bloomfield River. To get between the two, you'll need to take the Bloomfield Track – a 4×4 route only. It's just the place to flex your 4WD skill as you navigate unimproved creek crossings, climbs and descents and unsealed roads.
Don't miss
Be dazzled by the Mossman Gorge
Drop by the tourist hotspot of Port Douglas
Admire Australia's largest rainforest, the Daintree
Reach Cape Tribulation by ferry
Conquer the Bloomfield Track
CREB Track ( 4×4 Tracks Near Cairns)
Distance: 137 km
Difficulty: Difficult
Top Tip: This is a challenging track where help can be hard to come by – so make sure your vehicle is ready with gear including new tyres (check out comparisons here), a satellite phone and plenty of water.
Although this is one of the shorter Cairns 4WD tracks on our list, don't be fooled – it's also one of the most challenging. The name comes from the Cairns Regional Electricity Board, as this was originally created as a maintenance road for the electricity line between Cooktown and Daintree.
Nowadays, it's popular amongst drivers and cyclists looking to push themselves while also discovering the rugged beauty of this region. In particular, the steepness and roughness of this track means it is really one to give you serious bragging rights at the end.
It's not just the bragging rights on offer for successfully completing the CREB Track – there's also an abundance of beautiful spots along the way.
Don't Miss
Start off in charmingly bohemian Daintree, and take a swim in the Daintree River
Conquer the twin ascents of Little Red and Big Red and then brace for the lo-o-ong
Check out the old tin mining area of China Camp
Swim, or just enjoy the sights, at Roaring Meg Falls (permit from Burungu Aboriginal Corporation required)
Drive through the heart of McDowall Range
Emerge through the rainforest at Wujal Wujal then drive on to Cooktown
Kirrama State Forest to Cardwell ( 4×4 Tracks Near Cairns)
Distance: 359km one way
Difficulty: Moderate
Top Tip: Take a guided tour of the lava tubes to learn more about this fascinating phenomenon
Located around an hour and a half south of Cairns you'll find the Kirrama State Forest. Densely forested and with a number of spectacular waterfalls, it is a stunning place that's largely undiscovered.
For many years, Kirrama was the site of heavy logging which is what prompted the need for a trail between it and the town of Cardwell. As a result, a trail called Kirrama Range Road was opened in 1941 to heavy fanfare as it was required to negotiate steep ascents and temperamental weather.
Today, the trail is open to keen 4WDers who will be richly rewarded with an amazing drive. Expect to snake past heritage-listed rainforest, tempting swimming holes and beautiful lookouts.
Don't miss
Drive past the giant kauri pines and gum trees
Be dazzled by the Blencoe Falls at Girringun National Park
Visit the black swans and other bird life at Wurruma Swamp
Stop by the sleepy former mining town of Mt Garnet
Detour to the Innot Hot Springs for a soak
Traverse the 40 Mile Scrub National Park
Explore the Undara National Park with its incredible lava tube systems
Mt Haig Circuit/Tinaroo Range Roads
Distance: 40km circuit
Difficulty: Easy/moderate
Top Tip: After turning off for Emerald Creek, take Mount Edith Road after around 12km, and then turn right where it intersects with Dunbulla for Kauri Creek Road which will take you back to the start.
A bit of a hidden gem that's known mostly to locals and the closely knit 4WD community, the Mt Haig Circuit (also known as the Tinaroo Range Roads) is a favourite for good reason. Plus, it's relatively short- making it one of the best choices for short 4×4 Tracks Near Cairns
To find the track you'll want to head along the Kennedy Highway past Mareeba. Here, the turn off to Emerald Creek Falls will take you to the densely forested Tinaroo Ranges – a really spectacular site. Traverse past the centuries old gums and along the gravel roads that make up the Mt Haig Circuit.
Along the way, there are also some beautiful waterfalls and (crocodile free) swimming spots.
Don't miss
Admire the picturesque Emerald Creek with its lovely waterfall
Escape that Far North Queensland heat and humidity with a dip in a swimming hole
Need some 4×4 tyres before you hit the road? Click here to get the best advice and prices from Tyres Stores Near you. Or submit a tyre quote request here.