We are absolutely thrilled to announce the launch of our revolutionary tyre quoting software, Tyre Quote Pro! This incredible tool is designed to take your sales process to the next level and effectively communicate tyre recommendations to your valued customers.
Why is this so important, you ask? Well, we understand that customers are visual creatures who crave detailed descriptions and images of products.
They want to know exactly who will be working on their cars before they make any purchasing decisions. After all, 99% of customers have little to no knowledge about tyres, so it's crucial to provide them with the visual support they need.
Experience the power of Tyre Quote Pro by watching our explainer video and book yourself in for a free trial today!
Tyre Quote Pro, Made with Real Customer Input
What do people value most when buying tyres?
I surveyed 1000 tyre shoppers on AutoHero.com.au to find out.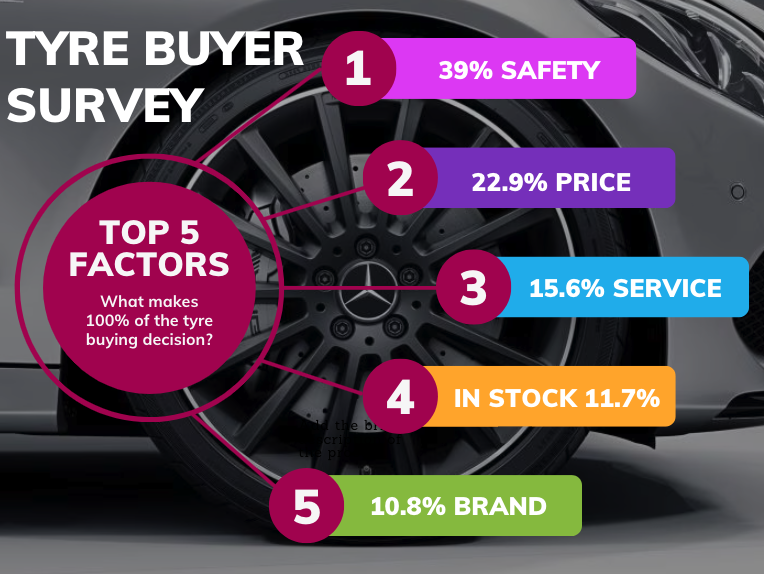 Price accounted for a lower percentage than anticipated, at just 22.9 %.
So does that mean 77.1 % of the sale is in your control if buying tyres is not all about price?
Want to know more?
This month, I'll report deeper into these 5 findings and explain how you can take advantage of this FREE report & how Tyre Quote Pro uses these finding to delight customers and sell more tyres for your business.
Want priority access?
Simply, get in touch and I will email you when it is complete.
---
Written By
Matt Banks
Your Digital Wingman!
M:0415 767 767
The Mechanic & Tyre Store Marketing Pros.
New Smart-Ass Feature Just Launched
Matt is the founder of Autohero.com.au and has been hooked on cars and repairs ever since childhood. A veteran in automotive since leaving school, Matt has completed his trade as a panel beater and is across all things with wheels.
His first car was a 1967 FORD XR Wagon followed by a to many collectable Holden's.
Have a question for Matt? Leave a comment below.