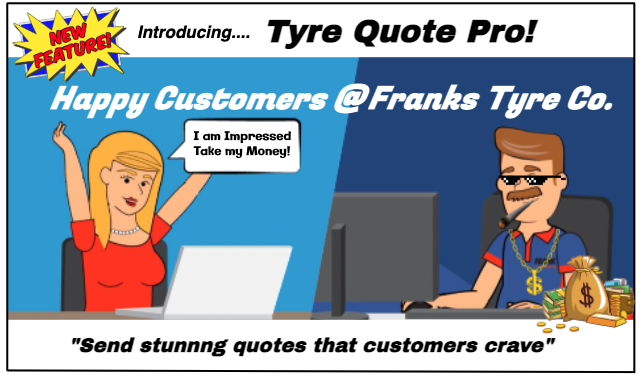 Billionaire Paypal founder Peter Theil famously said "Competition is for Losers"
His philosophy was… Why go into business just to compete, when you can dominate.
Just imagine if your retail store had a monopoly on your local tyre market?
Ah, but that's just flights of fancy, isn't it?
That couldn't really happen to little old you, right?
Actually, it's far more realistic than you think. 
For starters… It's easy to stand out in the tyre game and here is why.
" 99% of tyre retailers copy the same methods as store 3 doors down the road"
Don't believe me?
I dare you to mystery shop 3 local stores for the same tyre and see if there is an amazing difference in how they present a quote to you. 
If you see any real difference, I'll eat my hat.
It's either a quote sent by email with no pizzazz, just black and white text or worse, a quote told verbally over the phone with no follow-up.
Not only are these methods old and tired, but retailers who use them (almost 99% of the industry) are leaving so much money on the table it makes me wince.
Well, this sloppy standard caused by tyre retailers' blind conformity is…… Your Opportunity!
Here's how to exploit this silly standard
Don't expect customers to visualise you and your products without a little help. 
People are visual creatures and want to see detailed descriptions and images of products and know more about who is working on their cars before they pull out their credit cards and buy. 
Sounds too hard? Nope!
You can do this with very little effort using Tyre Quote Pro 
Sample quote here: https://www.autohero.com.au/q-pro/18528048-dcac-4beb-9842-71d0698b7284/ 
Interested?
To get a Free "Personalised" Demo simply..
Hit me up 24/7 by phone or email
Regards.
Matt Banks
Cheif Chedda Maker
M: 0415 767 767
The Tyre Store Marketing Pros.
Spank your competitor's ass at proposal time!
Show customers how good you are with Tyre Quote Pro