In a country as expansive and diverse as the land down under, choosing the best five Australian road trips is no easy feat. It's one of those topics where everyone has an opinion – partly because there really is something for everyone here.
Nonetheless, we've taken on the challenge and put together our selection for the five most epic road trips in Australia – these are the ones you simply have to experience in your lifetime.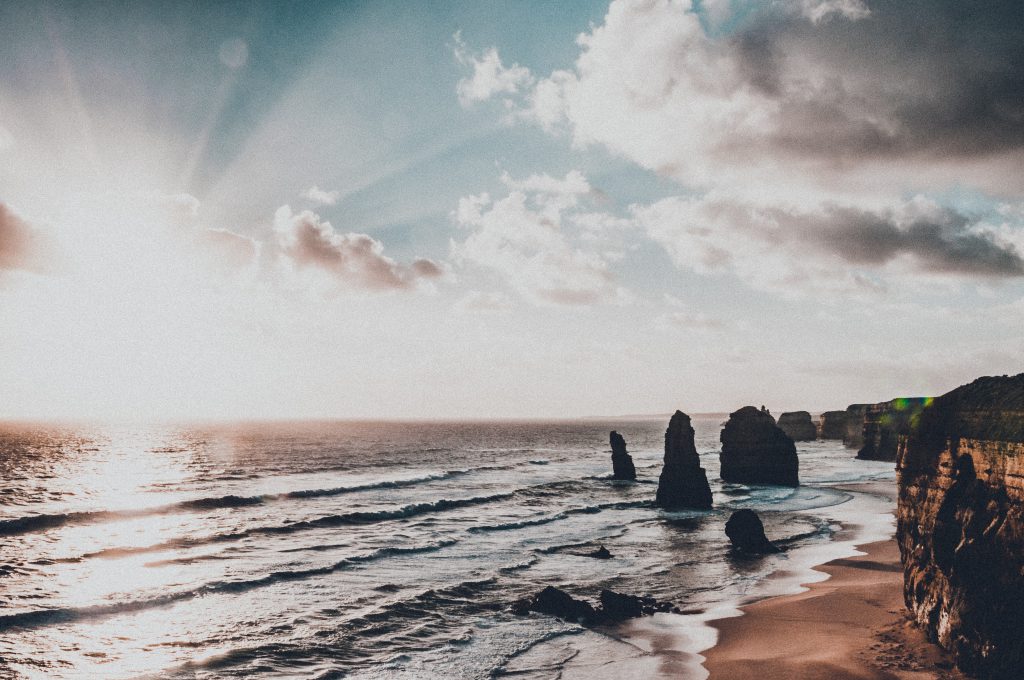 Tour the Great Ocean Road (Vic)
Best for: Beautiful beaches and coastal views
Suggested timeframe: 2 – 3 days
Distance: 664km
Regularly making lists of the world's best road trips, it's impossible to list the best car journeys in Australia without adding the famed Great Ocean Road. Nearly every Australian completes it at least once in their lifetime, and visitors flock from all over the world to experience it.
With jaw-dropping coastal views, more beaches than you could dream of and an abundance of picturesque towns, it's no surprise it's so widely loved. Add in extras like great surf and even the occasional whale watching opportunity, and this is certainly a safe bet for an epic Aussie road trip.
Although the Great Ocean Road itself is found in Victoria, it can easily be started in South Australia and joined with one of SA's most epic road trips.
Suggested Itinerary/Highlights
Enjoy a flat white in

Melbourne

, home of (arguably) Australia's best coffee

Start your journey at

Torquay

, one of the world's most renowned surf beaches

Savour the views through to

Lorne

and stop for a seafood feast

Near

Apollo Bay

, check out

Great Otway National Park

,

the

Cape Otway Light Station

and the Wildlife Wonders experience

Check out the

12 Apostles

, the GOR's most iconic view

Snap a photo of other sites including

the Grotto

and

Loch Ard Gorge.

Explore the attractions of the bustling city of

Warrnambool

Fall in love with the charming town of

Port Fairy

, and check out the arts and craft stores

Explore the Heart of Australia at the Red Centre (NT)
Best for: First Nations culture, magical landscapes
Suggested timeframe: 5 – 7 days
Distance: 1,135km
Australia's "Red Centre" is one of those destinations that can only be described as magical. Watching the sun set or rise over the majestic Uluru (formerly Ayers Rock) is a travel experience that becomes an unforgettable memory. Not only is it beautiful, but it's also a site of great cultural significance to the Anangu people.
Paired with the other awe-inspiring attractions in the area, a lap of Australia's red centre is undoubtedly one of the country's best road trips. Spots such as King's Canyon are a hiker or photographer's paradise, while the town of Alice Springs is an experience in itself.
Suggested itinerary/highlights
Drive through the

West Macdonnell Ranges (Tjoritja)
Be mesmerised by the beauty of

Uluru

– especially at sunrise

Explore the wider

Uluru-Kata Tjuta National Park

, being sure to stop by

The Olgas

and

the Cultural Centre

to learn about Anangu culture and history

Hike around the rim of

Kings Canyon

at sunrise – and maybe even reward your efforts with a witchetty grub!

Discover the Western Wilds of Tasmania (Tas)
Best for: History, wilderness and solitude
Suggested timeframe: a week
Distance: Approx 1,200km
Although it's very much a state of Australia, Tasmania has a different feel than the mainland and it's perfectly happy with that. The least populous state also offers up some of the most awe-inspiring travel experiences, so it's no wonder that it's on our list for the best road trips in Australia.
Truth be told, Tassie offers up a number of great road trips, however the newly minted Western Wilds itinerary is the stuff of road trip dreams. Winding through some of the state's most epic landscapes, bringing you face-to-face with unique wildlife and glimpses into the past, this really is a road trip you can't miss.
Suggested Itinerary/Highlights
Enjoy a quick city break in

Hobart

with its many galleries, cafes and shops

Wind through the jaw-dropping, glacier-carved landscape around

Mount Fields National Park

Hike one of the stunning trails around

Lake St Clair

Admire the winding rivers and plunging valleys of

Franklin-Gordon Wild Rivers

Learn – and see – the history of mining at

Iron Blow Lookout

and visit nearby ghost towns such as

Gormanston

and

Linda

.

Explore

Queenstown

, once known as the "world's richest mining town" and today a sleepy place

Discover the convict past of the sleepy town of

Strahan

, and check out the

West Coast Wilderness Railway

Wander through the

Tarkine Reserve Rainforest

, Australia's largest cool temperate rainforest

Drive around

Marrawah

, Tasmania's westernmost town, and if you're brave, check out the surf!

Trod the Path Between Sydney and Byron Bay (NSW)
Best for: Checking out some of NSW's best towns, beautiful views
Suggested timeframe: 2 days
Distance: Approx 800km
It's a rite of passage for young backers who can often be seen commuting in beat-up campervans, but the Sydney to Byron Bay road trip is a great choice for all ages. This fabulous trek takes you from Australia's largest capital city to the much loved coastal town of Byron Bay. 
Along the way, you'll snake through an array of towns of all sizes, sampling delicious food and enjoying their unique offerings. Perhaps the best part of this road trip, however, are the views – from rainforests to rugged coastlines and much in between, this road trip really delivers on the vistas.
Finally, you'll find yourself in the laid back and uber cool haunt of Byron Bay. We recommend you stay a little while to find out what all the fuss is about.
Suggested Itinerary/Highlights
The sights of

Sydney

need no introduction – cross them off the bucket list!

Hop between charming beach towns along the

Central Coast

before landing at up-and-coming

Newcastle

Venture inland to admire the dense rainforest around

Bellingen

and

Dorrigo National Park

Hike the

Yuraygir National Park

Hang ten if you can at

Yamba

, or else just enjoy the friendly and laid back charm

Find out what all the fuss is about at the effortlessly cool

Byron Bay

Conquer the Gibb River Road (WA)
If you are seeking an Aussie road trip that will not only challenge you but give you plenty of bragging rights, there's the Gibb River Road. Located in the Kimberley region of northern Western Australia, this 4WD track is on the bucket list of many intrepid adventurers.
It's not hard to see why. This epic trip follows what was once an old cattle route, and gives you a true sense of just how dramatic and awe-inspiring this part of the country is. Rich red sand underfoot, you'll pass striking vistas, expansive cattle stations and more than a few boab trees. Not to mention a few swimming holes and other delights to break up the journey.
Tip! The Gibb River Road is a challenge for a reason. Many of the roads are isolated, in poor condition and sometimes totally impassable. Make sure you take care on this trip, including checking the state of the road, bringing ample safety equipment and supplies, and checking your tyres (including bringing spares!)
Best for: this is the rugged outback of Australia at its very best
Timeframe: Two weeks is recommended, although it's possible to cut it down
Distance: 660km
Suggested Itinerary/Highlights
Stock up on supplies at

Kununurra

and while you're there, pay a visit to

Waringarri Arts

and

Mirima National Park

.

Hike at

El Questro

station (backdrop to Baz Luhrman's

Australia

), including the blissful Emma Gorge

Conquer the

Pentecost River Crossing –

your first challenge!

Be dazzled by the spectacular waterfall at

Mitchell Falls

Admire the rock art at

Munurru

Drive through the

Wunaamin Miliwundi (formerly King Leopold) Ranges

,

allowing plenty of time for photos

Enjoy a dip at

Bell Gorge

, one of the most picturesque spots along the road
Be amazed by the beauty and power of nature at

Windjana Gorge

and

Tunnel Creek

, geological wonders in their own right
Check out the enormous

Prison Boab Tree

 

(Optional) Enjoy a well deserved beach break at

Broome
So there you have it – our five top road trips in Australia. Which would you most like to try?
Whichever road trip you choose, don't forget that making sure you get there safely is the number one priority! Don't let tyre trouble ruin your fun. Make sure you're prepared by choosing the best possible tyres ahead of your journey. You can easily compare tyres for your next road trip here.