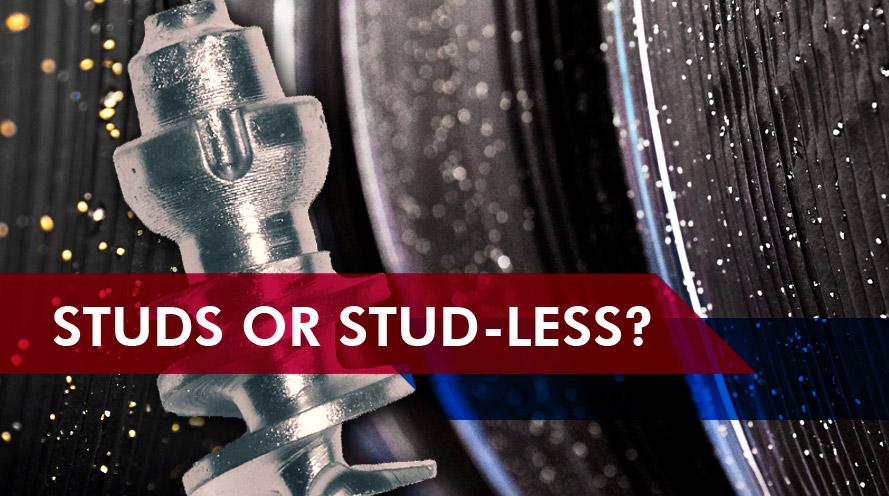 Making sure that your vehicle is well-maintained all-year round is necessary—but doubly so in winter. Winter driving can be risky, and treacherous conditions may test your skill as a driver.
A handful of preparations, however, can make your trip safer and help you manage an emergency better. One vital preparation you need to make is ensuring your tyres are up for the job. Tyres will not hold well when driving on snow and ice if it's faulty or don't have sufficient tread. This is why it might be worth considering switching to winter tyres. Winter tyres are designed for use in snow or icy road conditions. They have more rubber than regular summer tyres, thus, increasing traction.
Winter tyres come in two basic types: studded and studless tyres. Each has different characteristics, but both are designed to withstand the cold temperatures and dangerous conditions.
A few pointers below will help you simplify the choice between studded and non-studded tyres.
Studded tyres
If you drive more on icy roads, then studded winter tyres are the perfect choice. They have small metal studs embedded on them, which are usually made of tungsten. The metal studs are tough enough to dig into ice, which is why they may even damage the road when the driving surface isn't covered with ice.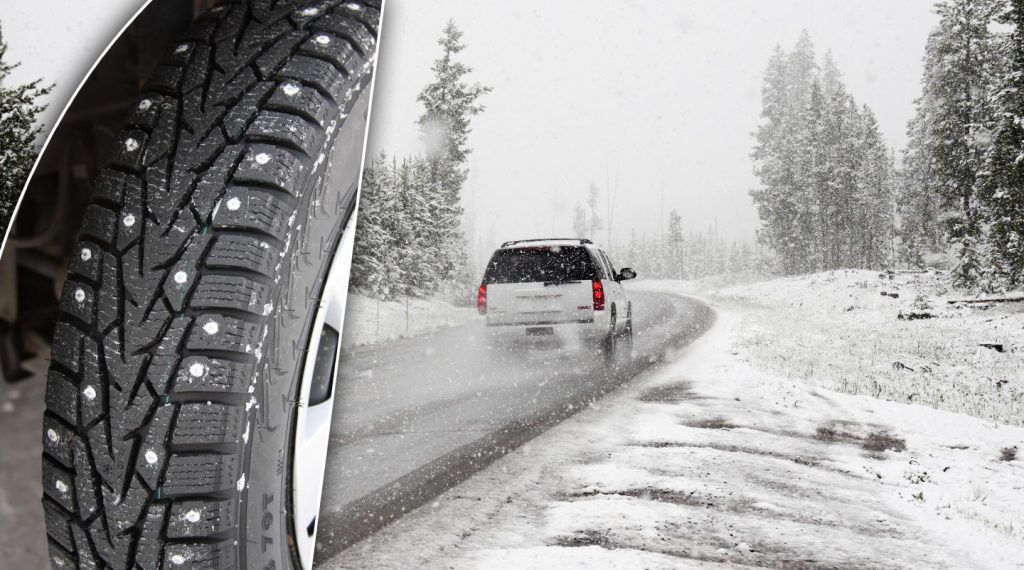 ADVANTAGES
More suitable for icy roads
Shows superior performances over studless tyres on wet ice and hard-packed snow
Less expensive than studless ones
DISADVANTAGES
Very noisy on bare roads
Not meant for dry and wet roads
not legal in all areas
Studless tyres
This popular type of winter is relatively new to the market. They were introduced in the early 1990's. Instead of relying on metal studs, studless winter tyres rely on their advanced rubber compounding, tread designs and other unique technologies.
Rubber flexibility, thanks to advances in rubber compounding, allows tyres to maintain and keep traction on snowy, icy, wet and dry driving surfaces. With deeper tread depths than summer or all season tyres, studless snow tyres can manage snow and slush dispersion from under the tyre. It also gives better snow-on-snow traction by stuffing or packing it within the tread blocks.
Another feature are the sipes. These are the thousand tiny slits in the tread pattern. These perform as thousands of biting edges on ice that aids with acceleration, deceleration and stopping.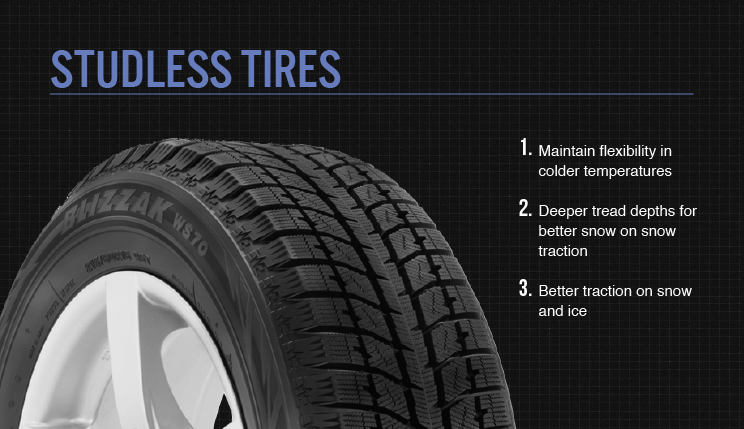 ADVANTAGES
Friendly on dry and wet roads
More than adequate snow and ice performance
Deeper tread depths to claw through snow and slush
Pliable in the cold
DISADVANTAGES
On glare ice, studded tyres may have a slight grip advantage
Choosing winter tyres greatly depends on what type of car you drive and where you drive. Whichever you pick, bear in mind that winter driving takes skill. Aside from reliable winter tyres, you also need to maintain the correct speed, stay calm when tackling winter roads, and plan a relaxed schedule to improve your safety and comfort on the road.