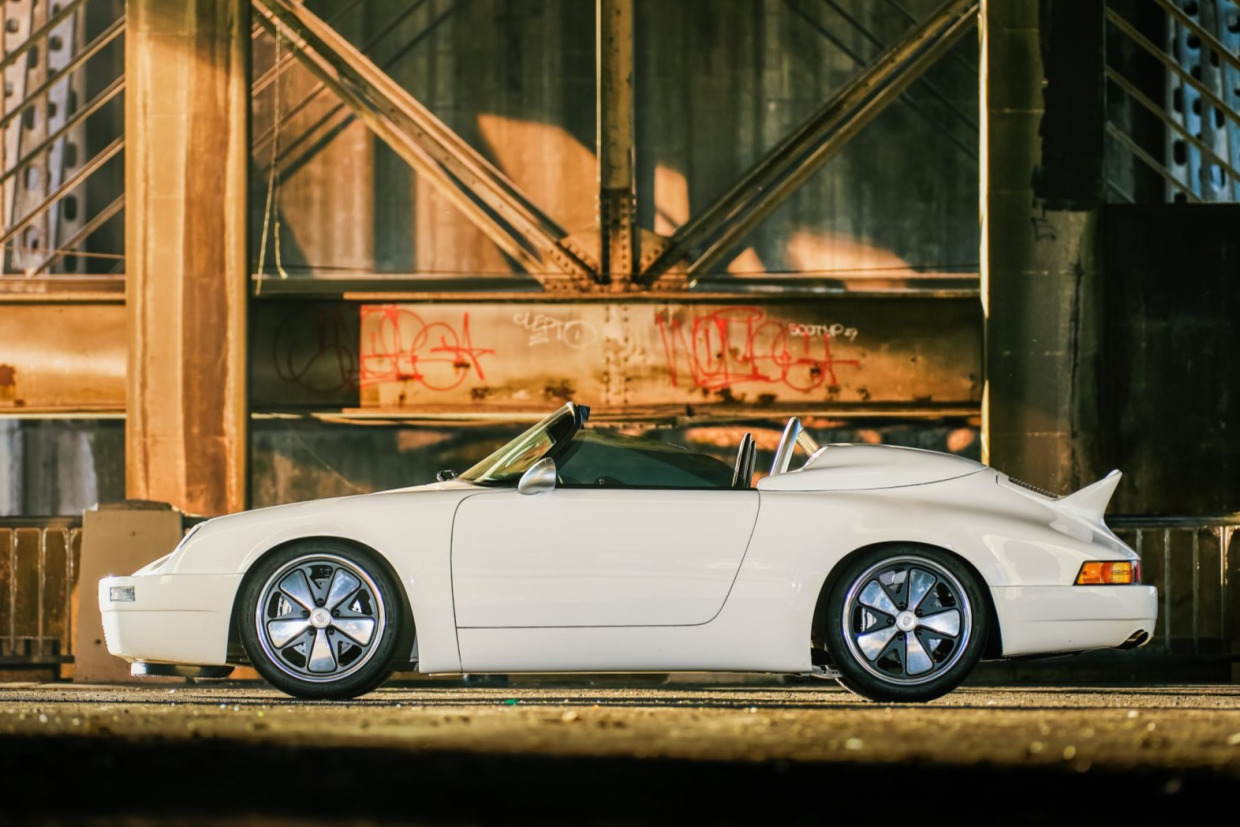 This custom Speedster is based on a 1978 Porsche 911SC Targa and was a long-term project for its owner and builder, who began the project in 1994 and applied the finishing touches in 2018. Power is from a Rothsport-tuned 3.6-liter flat-six paired with a close-ratio, magnesium-case five-speed 915 manual transaxle that reportedly features a Quaife limited-slip differential. Additional modifications include a short windscreen and modified rear hardshell cover from a 964 Speedster, 993-style fenders and headlights, custom rotary-forged 18″ aluminum wheels, four-piston Brembo brakes, ERP coilover suspension, fixed-back seats, a smoothed and gusseted six-point roll cage, and more. This 911SC was featured in a 2013 issue of Excellence and is now offered on dealer consignment with a dyno sheet, build photos, a modification list, and a clean Oregon title.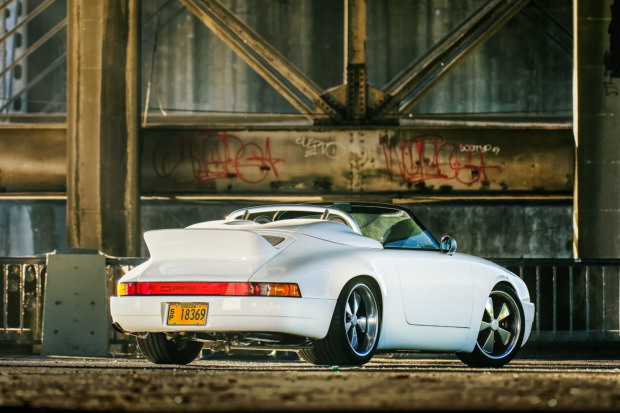 The Targa was dismantled for body modifications in the mid-1990s. Custom steel front fenders combine upper portions from a 993 with the narrower arches of the original 911SC versions, and blend into extended and smoothed lower rockers. The cowl vent and one wiper hole were eliminated, the trunk lid was smoothed, and a recessed Porsche crest was added to the hood. The front valance is a custom fiberglass item based on that used on the RUF CTR, while the single-outlet rear cover was designed and fabricated by the current owner. The car is not equipped with a soft top.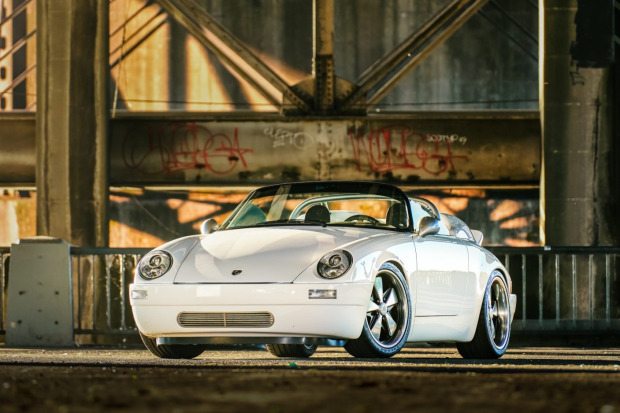 The windshield and frame were reportedly sourced from a 1989 Speedster and paired with a modified 911SC cowl, and the curved plexiglass side windows were custom-made. The hardshell rear tonneau cover is a modified item from a 964 Speedster, while the ducktail engine cover is reportedly an original piece from a 1974 Carrera. Both are supported by brushed stainless steel gas struts. Split-panel convex mirrors were acquired from Strosek Design. Fuchs-style 18″ wheels were rotary-forged to the owner's design and wear Michelin Pilot Super Sport tires measuring 225/40 up front and 255/35 out back.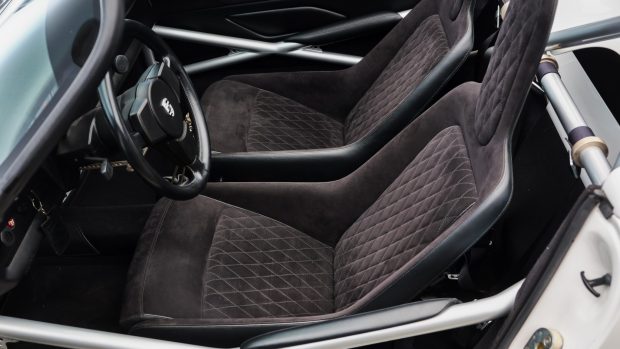 The two-place cockpit is upholstered in black leather and Alcantara, and a gusseted six-point cage ties the front and rear suspension uprights together. The McLaren F1-inspired fixed-back bucket seats are based on those from a Saab Sonett III and were installed using 914 sliders and custom Z-brackets. Armrest pads have been added to the door bars, and the custom door panels re-purpose the lock pulls as release knobs. The shift tower was moved 2.25″ aft and fitted with a WEVO shifter featuring a custom drilled knob.
The glovebox, radio, ventilation control, and defroster holes in the 1976 dash were removed before it was upholstered in black leather and fitted with a carbon fiber fascia panel. An MP3 player hookup replaces the factory stereo and is linked to a pair of door speakers as well as a concealed rear subwoofer. A factory sport steering wheel with a monochrome Porsche crest is affixed to a modified height-adjustable steering column from a Volkswagen Jetta. Silver-faced VDO instruments wear matching polished trim rings. The six-digit odometer previously showed 116k miles according to the selling dealer, and now indicates 1,700 miles since being reset during the build.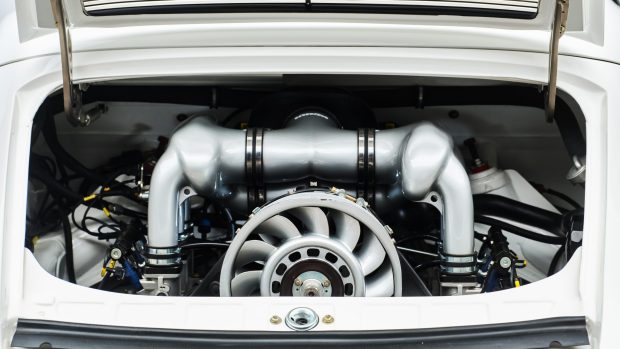 The 3.6-liter flat-six was reportedly sourced from a 19k-mile 964 RS America (62N06606) and was tuned and installed by Rothsport Racing. Modifications are said to include a two-stage resonance intake manifold, Rothsport 48mm individual throttle bodies, Rothsport intake splitter, a Split Second MAF sensor, 993 E-coils, 964RS camshafts, custom silver-finished tin, a Rennline RSR-style mount bracket, Rennline RSR-style rear motor brace in satin-finish stainless steel, a GHL exhaust system with a two-into-one muffler, a Patrick Motorsports lightweight aluminum flywheel, and a replacement wiring harness connecting the engine to a MoTeC engine management system under the rear cover. A complete build list provided by the seller is included in the gallery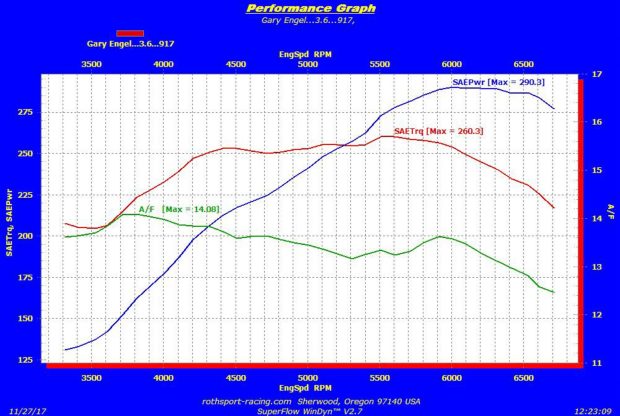 The seller reports that the engine was dynoed and tuned by Scott Platt and Jeff Gamroth of Rothsport, and a 2017 dyno chart shows peak output of 290.3 horsepower at 6,010 rpm and 260.3 lb-ft of torque at 5,604 rpm, both measured at the crank. The selling dealer reports that the car received a top-end rebuild in 2018 due to worn valve guides which had resulted in smoking on start-up.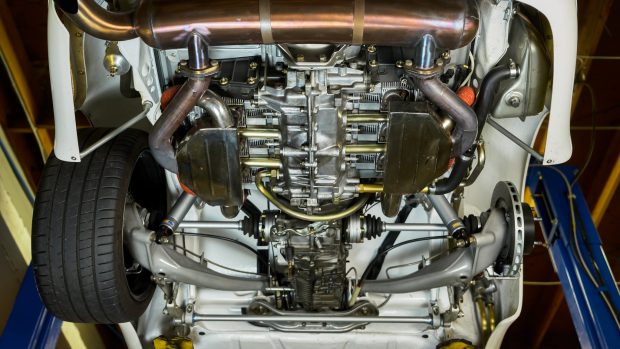 The 915 transaxle was sourced from a 1977 911S, the last year to offer the lighter weight magnesium case, and features a stock first gear with close-ratio Porsche racing gears from 2-5 culminating in a 0.89 5th gear. The seller reports that the transmission was built by Gordon Ledbetter of Hillsboro, Oregon and also features and a torque-sensing Quaife limited-slip differential and further modifications detailed on an included modification list. The factory torsion bars have been replaced with coilovers with JRZ dampers and Eibach springs, while other modifications include an ERP alloy crossmember, reinforcement of the rear crossmember, 935-style spring plates, and 20mm anti-roll bars. Braking is handled by four-piston Brembo GT calipers with cross-drilled front rotors and 930 rear discs with factory parking brake drums.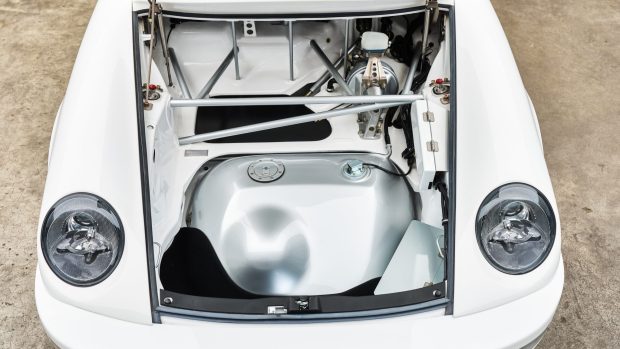 Additional silver-finished bracing joins a 100-liter rally fuel tank with an underhood filler in the trunk, while the battery has been relocated to the smuggler's box under a custom carbon fiber lid. The factory battery box is now occupied by a custom-made tool box, and the fuse box is equipped with a hinged lid rather than its original snap-on cover.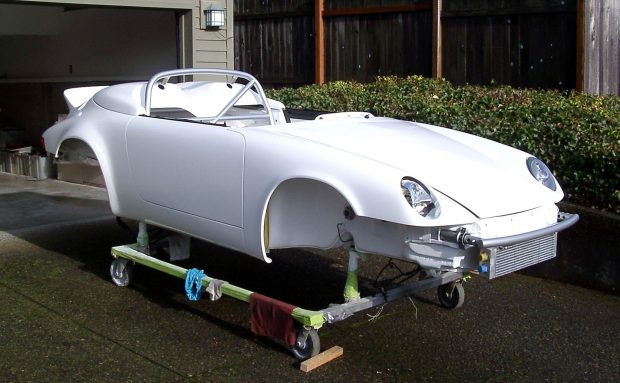 Additional photos taken prior to and throughout the build are provided in the gallery below, as is a bulleted list of engine, transmission, suspension, and brake system modifications. The car was featured in the February 2014 issue of Excellence magazine.
A drive video is viewable above and an multi-part interview with Jeff Gamroth of Rothsport about the car is presented below.